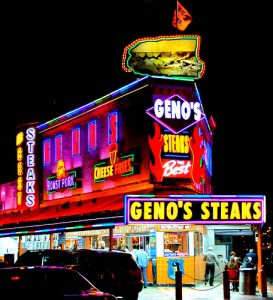 Reduce your workers' comp rates by moving? Property taxes and minimum wage may be reasons that companies choose one state over another when it comes to setting up a business. Perhaps workers' comp rates play a big role in that decision as well.
The Oregon Department of Consumer and Business Services produced a rate ranking on a state by state basis. The rate index is based on amount paid in premium rates per every $100 in payroll in 2012. Topping the list is Alaska with a rate of $3.01, $2 more than the lowest premium on the list, North Dakota with $1.01.
The main reason we bring this rate ranking up is because of a recent story that hits close to home, and close to stomach. A New Jersey bakery had been in talks to move their business over to Pennsylvania to reduce costs, specifically pointing to lower workers' comp rates.
Liscio's Italian Bakery, one of the famed bakeries providing rolls to us Philadelphians and our cheesesteaks, had threatened to move over to Boothwyn, Pennsylvania. We all know the key role that a good roll plays when it comes to sandwich quality, so obviously our ears perked up at this news.
Liscio's co-owner Chad Vilotti said that workers' compensation insurance was a "significant item" for the company. They were thinking of moving to Pennsylvania to reduce costs and be able to hire more workers.
New Jersey's premium ranked higher than Pennsylvania's, $2.74 versus $2.15 in 2012. It seems like a slight difference but for some businesses, that extra $0.59 can be another incentive for them to cross state lines.
Illinois, which has the fourth highest rates at $2.83, has seen a dramatic loss in their manufacturing sector compared to neighboring states with cheaper rates like Michigan ($1.73), Iowa ($1.90) and Indiana ($1.16). Even though manufacturing as a whole lost a lot of jobs during the recession, the state has not recovered nearly as many jobs as their neighboring jurisdictions. Companies like Caterpillar Inc. and Kenall Manufacturing have moved elsewhere.
The bakery may, on the other hand, decide to take a tax credit from the Grow New Jersey program instead and keep their home base in Glassboro, New Jersey. The state is also planning to give this tax credit to a Pennsylvania based bakery, Amoroso's, in order to build a site in New Jersey rather than another site in their less costly home state. Other companies like Burlington Coat Factory and Sandoz Inc. have threatened to cross state lines but for now remain in Jersey, citing this tax-break program.
Some competitors are grumbling about the tax break, saying if the state is too expensive for these companies maybe they should move. Sort of an "if you can't stand the heat, get out of the kitchen" argument. They also suggest that the state could cut everyone's costs and get everybody back on the same playing field, rather than inciting some companies to stay over others.
What do you think about all this? Is it right for a state to pick and choose companies to try and entice them to stay with tax credits? Maybe insurance rates are just part of the price of doing business, but I would be interested to hear of other cases where a company has jumped ship for cheaper rates.