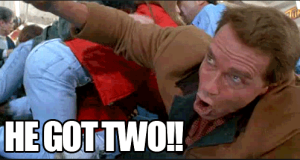 Perhaps you are one of the brave folks who head out to retail stores on Black Friday to score deals. Most of the time it is a pleasant shopping experience, but people have been known to go a little nutty during the holidays. Remember when a Wal-Mart Employee was trampled to death when the doors were finally unlocked and the mob descended upon the store? If you are not shopping but working this holiday season, make sure employees are protected and keep these tips from the Occupational Safety and Health Administration (OSHA) in mind.
Crowd control can be a big issue for retailers this time of year, especially those that advertise "limited items available" or have a sale that's only in a short time window. Retailers can hire extra security to have on hand, and set up longer rope lines for crowd control so there is not a mad rush on the store from a lot of people at once, like on store opening times.
Know the store's maximum capacity and stick to it. It is better to ask customers to come back or wait than to risk a fire hazard or stampede-situation. It's not worth it to cram too many people in a space that isn't built for that many people. It also goes without saying that exits should be clearly marked and not blocked by merchandise.
A lot of holiday workers are temporarily employed so they might not know the "lay of the land" so to speak. Think about some additional training sessions to acclimate these short-term employees so they have a better handle on how things usually go on in the store and can be better prepared if anything goes awry.
Speaking of staff, it might be savvy to have extra staff on hand to help customers find items, clean up any merchandise that has been knocked on the floor, or man the busy checkout lines. You can make emergency action plans all you want but human behavior is hard to predict and unruly customers might be a risk to your employees as well.
Employers might also want to have a plan in place for all employees, experienced or not, so they know what to do in case of a huge crowd or another unusual or emergency situation. Hopefully it won't need to be used but having a plan in place beforehand can go a long way in preventing injuries or other problems.
Holiday shopping should be a fun experience, not a potentially hazardous one. Ensure the safety of both employees and customers this season.