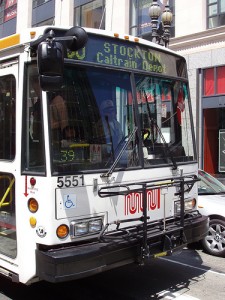 When there's a case of insurance fraud by either party, it's sometimes assumed that the case boils down to "employee vs. employer/insurance provider" – the respective legal teams notwithstanding.
Unfortunately it's not always that simple, and third parties can – and do – get caught in the crossfire.
Last month Matthew Lopez of Southern California was found not guilty of felony battery charges against a San Francisco bus driver. Lopez spent three months in jail prior to the trial.
The unidentified bus driver claimed that Lopez attacked him while trying to open the bus doors. The claim states that the girlfriend of Lopez and the driver's sister were involved with an altercation, which led to Lopez demanding the door to be open. The driver alleged that Lopez went into a rage and brutally assaulted him, resulting in 14 months of worker's compensation.
Surveillance footage told another story. Lopez's attorney proved to the court that none of what the driver claimed was true, and Lopez acted in self-defense. The attorney also pointed out that Lopez was on crutches with a broken leg at the time. Finally, dental records showed that the driver was missing twelve teeth before the incident – including two that he claimed were knocked out in the scuffle.
This case brings mixed feelings. On one hand I'm happy to see justice (partially) served with Lopez exonerated of these charges. On the other I'm enraged that an innocent man spent three months in jail, had his reputation initially destroyed and faced incredible mental and financial stress so that bus driver could profit.
Never forget, there are people that lose more than money at the hands of a fraudster.
Source: CBS San Francisco