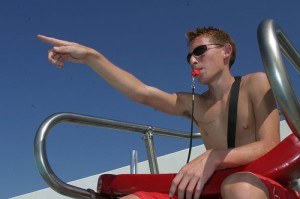 An injured worker in Texas claims he was fired after reporting his accident to the authorities. Wilmer Sanchez Lopez is a migrant worker from Honduras and was working at a site in downtown Austin. He was struck in the back by a piece of rebar when the bundle of rods fell from a crane on November 8, 2013. Two other workers suffered injuries, said the Texas Tribune.
Lopez informed a nonprofit worker advocacy group, the Workers Defense project, of the accident and they urged him to seek medical help. The group then called OSHA, who told them they had not been informed of the accident by Lopez's employer, Capform Inc. of Carrollton. Lopez met with OSHA on November 19 and was fired the next day.
Protesters organized a group at the construction site to try and bring more attention to workers who are injured at construction sites. The group was supported by the Workers Defense Project, which Lopez is a part of. They demanded Lopez be reinstated and called for stronger protections for workers in Texas. The protestors say there is a heavy pro-business influence in the state and there is a serious lack of safety regulations or laws.
The Workers Defense Project wants OSHA to investigate the case, since federal law prohibits discrimination against employees for filing safety violation reports. Texas state law does not prevent employers from firing whistleblowers. The group says that whistleblowers can help prevent future accidents.
The United States Bureau of Labor Statistics reported that worker deaths in Texas increased by 20 percent last year, though nationally rates were on the decline. Out of 531 officially reported deaths in Texas, 105 of them were in construction.
"Texas is being built on the backs of workers who are injured, even killed on the job, or are considered replaceable or disposable by their employers," said Emily Timm, deputy director of the Workers Defense Project. "This is just not a sustainable way for us to build our state."
Even though Lopez's employer had workers' comp insurance, Texas is a state that does not mandate employers to carry it. A lot of times the workers are helped out by the government if they cannot afford care. That means that taxpaying citizens are held responsible for the financial ramifications of an injury instead of the employers. This is all very recent so the outcome of Lopez's situations is yet unknown. If it is found that he was fired for reporting an accident, maybe Texas needs to take a look at their whistleblower policies.