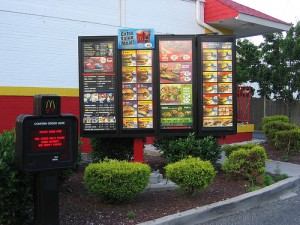 A Oklahoma man was not "lovin' it" when he went through the drive thru at the fast food chain.
A McDonald's employee who is a juvenile was working the drive thru in Chickasha got a surprise when a customer who was handed their food and checked their order and found they were missing something.  A passenger in the backseat was upset when he did not receive his dipping sauce, the passenger then proceeded to pull a gun on the employee telling the juvenile don't make me use this.
After the gun was pulled the car pulled away.
A witness to the incident says that the suspect who pulled the gun was upset over their french fries missing from the order.  Police are still investigating the incident but say that no matter if the gun was real or fake, or if the stunt was just a prank; once they pulled the gun on the employee and made it appear to be real it became a felony with a firearm.
Not only did the suspect not get their fries they are now wanted for felony gun possession.  As for the employee no word yet on if the incident had a lasting or traumatic effect on them.  Will we see a workers' compensation claim spawn out of this story?  I mean this could have some kind of lasting mental PTSD type thing for this juvenile.  Only time will tell, as of now no arrests have been made in the case either.
Source: UPI