New York's 9/11 first responders and volunteers have until this Friday, September 12th, to file workers' compensation claims for access to free health coverage, provided by the State of New York. This legislation was extended by Governor Cuomo late last year to this Friday.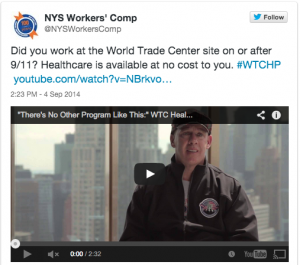 The New York State Workers' Compensation Board has undertaken an aggressive visibility campaign titled, "Were You There?" to let people know about programs available to them if they file on the New York State Workers Compensation Board website.
As of 2013, over 40,000 people have filed with the NYWCB for benefits.
If you know of anyone who "stood up in the face of danger to assist in the rescue and recovery efforts during and after the horrific attacks at the World Trade Center", please pass this information along.