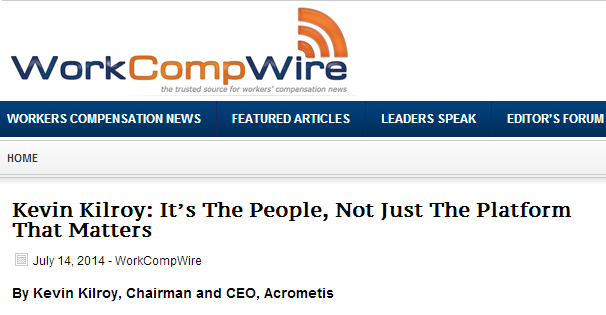 Today WorkCompWire featured a second article by Acrometis Chairman and CEO, P. Kevin Kilroy in their "Leaders Speak" series.
After last week's success, this article focuses on what is the most important (yet sometimes overlooked) component of the workers' comp industry- the people.
Though technology is important and essential in order to streamline claims operations, it can be rendered almost useless without the human touch that only claims professionals can provide.
"When a claims professional is overloaded with a high caseload (as they almost always are) and is forced to move from "working the claim" to "working the files", outcomes suffer and claims related costs rise. Systems that tie the hands of claims professionals, those offering only one method for dealing with a case, frequently lead to frustration from everyone in the process, the claims professional, the injured worker, the employer and even the providers," Kilroy says in the article "It's The People, Not Just The Platform That Matters."
Read more of his second piece here.
If you missed last week's article, "Is There Really a Need to Address Future Challenges Facing the Workers' Comp Industry?", you can still access it on WorkCompWire.
Thanks to WorkCompWire for the chance to get our message heard. Is your organization doing enough to face the problems that are flooding the WC industry?