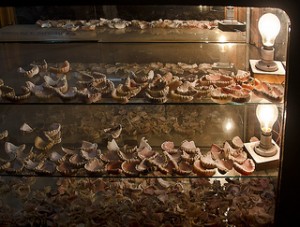 I'm thinking about filing a workers' comp for the mental and physical discomfort I am experiencing right now as I sit in my soaked clothes-a result of my sprint through the raindrops into work today. Well, maybe that's not such a legitimate claim. Victoria Flanders, however, does seem to have a legitimate case. Though she has been fighting a tough battle to earn the compensation she needs.
Flanders worked as a part-time custodian at the Solvay Village hall in Syracuse, NY and earned $300 a week. During her employment the building was undergoing renovation on wood that was probably a hundred years old. The workers would sand off old varnish during the day and at night Flanders would come in to vacuum the dust they left behind. After three weeks she came down with a chronic cough and felt a lot of pressure on her chest.
Her doctor told her she could no longer work at the hall, and she claims her employers never warned her about the potential dangers.
Now three years later, Flanders is still experiencing declining health problems. She says the medication she was put on to treat her pulmonary disease has had nasty side effects. She now wears dentures because she lost her teeth, experiences reduced bone density, shrunk three inches, had her left hip replaced and usually feels extremely fatigued.
"I just have watched for three years of her suffering. It's not my wife. This is not the woman that I married," says her husband Mike, who has seen her illness take a toll on her mental state as well.
Victoria says, "It's ruined my family life. I used to be a happy go lucky, do everything kind of a gal. I think I've been out twice this month."
While Victoria has been battling symptoms, she has been battling with lawyers over whether or not she is entitled to workers' comp and reimbursement for other medical bills. Initially she was awarded $200 a week in compensation, $100 less than what she made a week when she was able to work. That award was cut to $100 a week, and in August a judge ruled that she was not entitled to receive any compensation.
Her husband states that her employer's insurance company is spending a lot of money to fight the case and it's hard for their family to compete with those kinds of resources.
"It's stacked against the worker because you're dealing with these large insurance carriers that have all kinds of money," he said.
They were offered a settlement deal of $56,000 but turned it down, saying they have no idea how bad her problems might get in the future and they are not sure if that will be enough to cover expenses. Flanders has grown increasingly upset with the treatment she has gotten from her former employers and their lawyers. She says they claimed her dead parents had dental problems and her problem was therefore hereditary. She says that is a flat out lie and is shocked they would bring in her deceased parents. The family has appealed the decision to fully cut her benefits but they are still waiting on the decision.
I'm not quite sure why the employers are fighting back so hard against this case since it seems like she has a legitimate claim. I don't know if it's even possible to fake having all your teeth fall out. I hope that the case is settled and that Flanders starts to feel better, both physically and mentally.