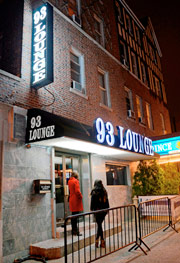 Police raided and close a nightclub in Brooklyn on Saturday night.  93 Lounge is known to be a place of mayhem, where violence and drugs are known to be frequently used.  This night the owner Ronald Coury Jr. was arrested and his club closed not for drugs or violence, but because he cancelled the indemnity plan on his employees there by no providing workers compensation coverage.
This is not Coury's first run in with the Workers' Compensation Board, the bar was closed in December 2012 for failing to have proper WC coverage for his employees.  He was allowed to reopen after he purchase a plan.
If convicted he faces up to four years in prison.  He trial is set for June 18th.
93 Lounge has a long history of many violations with the law not just the WCB.  They have been accused of lying on their liquor license permit and serving liquor in mismarked bottles.  they are at risk to lose their license.
After a brawl last New Year's Eve a drunken couple attempted to attempt to run over four other party goers and drove on the sidewalk and injured people.  Many things can happen at bars but if you do not provide your employees with their rights especially if they should be injured be prepared to be arrested and shut down.
Source: The Brooklyn Paper